With double balanced armatures, double dynamic drivers and a detachable cable, the QT3's are unbelievable value for money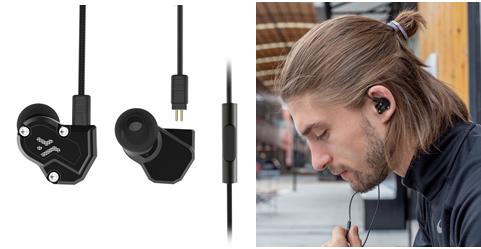 LONDON, AUGUST 23rd 2018, Audio specialist RevoNext, established in 2015 by audio engineers with fifteen years of experience in the sector, are today pleased to announce the availability of its QT3 quad driver in-ear earphones. Inspired and created in Stockholm, the QT3 earphones feature double balanced armatures and double dynamic drivers to deliver a superior sound quality. The QT3 are available from Amazon and RevoNext website for just £59.99/$70.
The QT3 earphones are ergonomically designed with a streamlined aluminum sound chamber and comes complete with three sets of silicon ear tips to fit naturally into the ear canal, ensuring exceptional comfort and noise isolation. Available in matte black, grey space and red, the QT3 earphones offer a changeable line design, using the 3.5mm anti-oxidation gold plated connector and 0.78mm 2-pin plug detachable high quality cable audio cable, further enhancing the sound quality and personalisation options.
Inside, the QT3 has two dynamic drivers and two balanced armatures, delivering a better balance of three frequencies with crisp high notes and deep low notes. Together, this technology allows listeners to enjoy a new kind of auditory sense.
The QT3 audiophile grade earphones are available with or without an in-line microphone should people wish to take calls on the go and for those devices without a 3.5mm connection, RevoNext will be selling a Bluetooth cable in September. This will simply slot in where the 2 pin detachable audio cable would fit to ensure the QT3's are futureproof.
RevoNext audio products were conceived by its passionate, music loving founders in both Stockholm and Los Angeles after failing to find a good quality earphone or headphone for an affordable price. RevoNext are challenging the industry by doing things differently, with new and unconventional ideas and by focusing on engineering solutions to provide young music fans with beautifully designed and affordable Hi-Fi headphones/earphones.
The RevoNext QT3 quad driver in-ear earphones are available from £59.99/$70 from Amazon UK and RevoNext
Product Details – RevoNext Quad Driver In-Ear Headphones RN-QT3
Features:
Type: In-Ear
Connectivity: Wired
Cable Length: 125cm±2cm
Sensitivity: 105dB
Impedance: 15?
Frequency Range: 7Hz-40KHz
Plug Type: 3.5mm Line
Pin Type: 0.78mm
Weight: 25g
Package includes:
1 x Quad Driver In-Ear Headphones
3 x Silicone Ear Tips(3 Pairs)
1 x 3.5MM 0.78mm 2 pin Detachable Hi-Fi Audio Cable
1 x User Manual
About RevoNext:
RevoNext are group of passionate music lovers. With full inspiration and creation in Stockholm, the Capital of Sweden, RevoNext challenge the industry by doing things differently, worshipping unconventional ideas and focusing on engineering solutions. Several of RevoNext founders had experiences in Stockholm and Los Angeles but failed to find really good Hi-Fi headphone/earphone at affordable prices 3 years ago, so they are devoted to provide young music fans with well-developed Hi-Fi headphones branded by RevoNext.
REVONEXT is the combination of two words ' Revolution' and 'Next', which indicates our determination for continuous innovation in sound experiences. To provide users with the best sound experience, RevoNext are committed to continuously exploring the revolution of acoustic technology and take that as their team mission!