This article originally appeared on 60 Second Social.
I'm not a stock market guy as such, however I do keep an eye on some companies stock as a passing interest and this week has been a tough one for several social media and internet companies. Twitter's stock plummeted $8bn in a single day all because of one tweet.
Investors were rattled and panicked after the early disclosure of unexpected low revenue which was exposed before close of business by a company called Selerity. Selerity is a service which scours the web looking for investment news and information.
It is important to know that there was no big inside leak, Nasdaq has admitted to the BBC that they inadvertently released an early version of Twitter's earnings and that the incident was under investigation. Normally news like this is published after the market closes so that news can be digested by investors before they decide what to do.
However with the news of low revenue before the market closed for the day, investors panicked and stock started to fall fast. By the time the markets closed on the day, Twitter stock was down a massive 18%.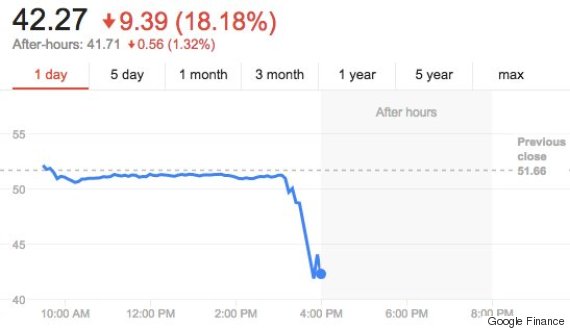 Selerity has pointed out that they did not leak any information and that the earnings release was sourced from Twitter's Investor Relations website. Twitter has always struggled with growth in terms of its user base however they have managed to keep Wall Street happy for the most part as revenue has increased from quarter to quarter.
Today's $TWTR earnings release was sourced from Twitter's Investor Relations website https://t.co/QD6138euja. No leak. No hack.

— Selerity (@Selerity) April 28, 2015
However this quarter is the first time that Twitter's revenue has fallen back from the previous quarter but Dick Costolo, Twitter's CEO is not panicking. He says that revenue was lower than expected due to a lower-than-expected contribution from some of their newer products which have been released recently such as Periscope.
Q1'15 revenue: $436M; adj. EBITDA: $104M; non-GAAP net income: $47M. Key info: https://t.co/o3ZZ7Ny5sY #TWTRearnings pic.twitter.com/zPmGPmKgg6

— TwitterIR (@TwitterIR) April 28, 2015
Twitter are not the only ones struggling on Wall Street this week, LinkedIn stock fell a staggering 25% on Thursday which shaved off around $8bn in market value. Yelp stock also ended Thursday down by 23%, many of these services falling short on analyst estimates.
For Twitter though, Dick Costolo is not worried yet. He has the spotlight back on him after a poor Q1 but he says that the board is in sync with him and that the Twitter team knows what they need to do. He says that the board and Twitter staff knows what needs to be done both now and on new Twitter projects in the pipelines.
"The [Twitter] team gets it, they know what they need to do on [revenue]. The product team knows what they have to do on the product and what we've got coming down the pike."
About The Author
Mark is the founder of 60 Second Social media where he provides social media news and digital marketing analysis. You can follow him on Twitter here. You can also follow 60 Second Social on Twitter here. Or you can drop Mark an email at, [email protected]