By @TheMarkDalton
Apple only had time to showcase 10 features at WWDC for iOS and they selected to show of what they consider to be the main changes in what Apple has described as their biggest release of iOS to date. As always, there are a ton of features which Apple didn't get time to talk about so here are 10 more cool features that they didn't discuss at the event.
1) New Wake Alarm
The clock has both a brand new UI and a new feature called "Bedtime". This is a new button at the bottom which analyses your sleep needs and lets you know when you should go to bed and when to wake up based on how many hours of sleep you tell the app you would like to achieve. It will also track how many hours you slept as well as providing sleep analysis.
2) Individual Read Receipts
Another very welcome introduction to iOS 10 is the ability to have individual read receipts for different contacts. Previously read receipts were all or nothing which didn't really make them all that functional because you don't want to necessarily let people know when you have seen their message. So I might want my mother to see when I have receiver her message but if my boss texts me I more than likely won't want him to know at all!
3) Health App Gets A Major UI Update
The health app has also been given a major UI update and the key health metrics have a large graphic at the top explaining what each metric is. There is also a video you can watch in each of the metrics. The new update is a welcome refresh and allows you to access a wide range of data much easier than before.
4) Unsubscribe From A Mailing List
Mailing lists can be a royal pain in the ass. We sign up, thinking that they will be great or we simply forget to untick the box to receive newsletter updates and we just don't bother looking for that little unsubscribe button hidden in small print at the bottom of the email. Well Apple is making it easier than ever before by allowing you to unsubscribe using a button at the top of an email in the mail app.
5) Goodbye Game Centre
More of an observation than a feature is that Apple has silently killed off game centre. As of iOS 10, game centre is officially no more as an app which won't be much of a deal to anyone really because it was hardly ever used. The game centre feature does still exist however developers have to build it into apps manually.
6) Remove Unwanted Stock Apps
One which many users will be delighted to hear is that you can now remove stock apps from the home screen. Apple didn't announce this at WWDC and it makes sense because it is kind of like a parent having to admit they are wrong. For years, people have asked for the ability to remove stock apps from the home screen. However, it is also important to note that the app is not actually deleted, just the hooks, user data and icon is removed.
Also an interesting point is that you still can't change the default app so if you delete the maps app and someone sends you a location in iMessage it simply won't work on your iPhone. Its not a perfect solution and if you need to get any stock apps back then you can do so through the App store.
7) Maps Remembers Where You Park
When you use Apple maps to navigate to a destination and park you care the app will send you a notification and drop a pin on the screen where you have parked. When you want to head back to your car the location will be marked in Apple Maps as a recommended destination. Neat!
8) Optimise Music Storage
If you have a lot of music you have not listened to in some time then you can turn on a setting which will automatically remove music you haven't listened to in a long time from your device. This is a great feature if you are rocking an iPhone with a smaller storage size like 16gb where storage is a premium. For those on 32gb or higher it may not be as big a deal depending on how much you have stored on your device.
9) Opening The Camera App No Longer Pauses Music
Sometimes you are out, listening to some music and you want to snap the perfect sunrise for Instagram. In previous iOS versions, opening the camera app would have stopped your music however now music will continue to play and you can take a photo at the same time. However if you choose to record video the music will stop playing, but that makes sense.
10) Slide To Unlock Is No More
This is one people will probably struggle with the most when they update this fall. It has taken me some getting used to. Apple went through the new lock screen extensively in the WWDC demo. However an important point to note is that Apple has killed off the slide to unlock feature and has replaced it with a 'Press home to unlock' feature instead. So now instead of swiping on the screen you will press the home button to bring up the option to enter a passcode or TouchID.
---
These are just 10 new features that Apple didn't mention during WWDC, there are of course much more but special mention needs to be given to two things, rich notifications and dark mode.
Rich Notifications
Rich notifications look great, Apple demoed them on stage with 3D touch and you can interact with notifications now without ever having to leave the lock screen. So where does that leave users without 3D touch? The iPhone 6 and iPhone 6 Plus are not exactly old devices so not all of us have access to a device that has 3D touch and may not have access to a device with 3D touch for some time either if an upgrade is not near.
The good news is that rich notifications are coming to devices which do not have 3D touch. We are not sure exactly how Apple is going to implement them, it could well be a long press instead however in the notes accompanying iOS 10 beta 1 Apple mentioned the following.
"Support for rich notifications is optimized for 3D Touch, and in iOS 10 beta 1 the feature is available only on iPhone 6s and iPhone 6s Plus, Future betas will provide access to this functionality for users of iPhone models without support for 3D Touch."
Dark Mode
It is no secret that I was desperate to hear something about dark mode. A lot of users were hoping to see something about dark mode however we ended up leaving with nothing which was disappointing.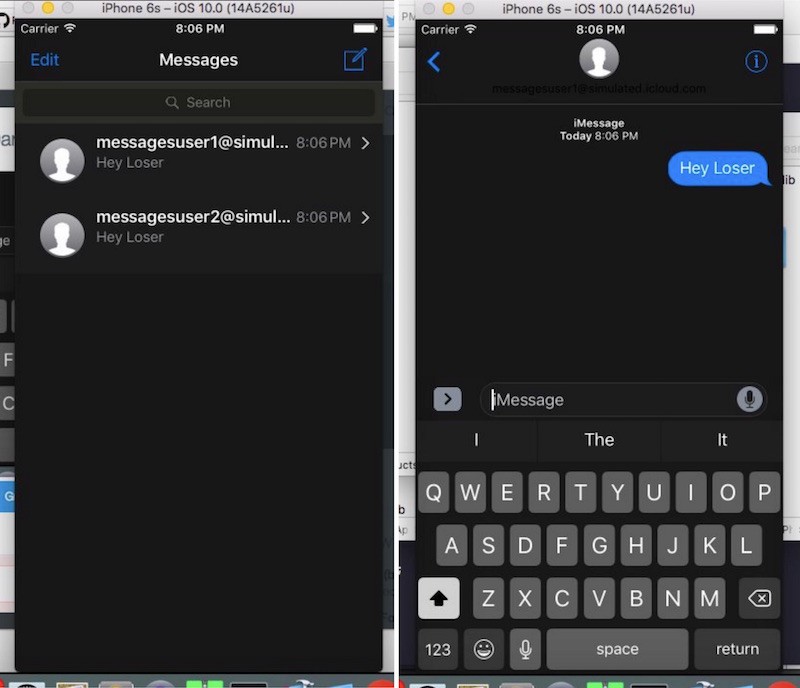 Despite hearing nothing, developer Andrew Wiik shared some screenshots online of what appears to be an early form of dark mode running on the first beta of iOS 10 inside Xcode.
In a Reddit post, Wiik mentioned that "Apple has implemented the feature, it just isn't available for users yet." It is possible that Apple are waiting to release a dark mode on an OLED display device later in the year (rumoured to be the next iPhone display) or it is also possible we will see the dark mode switched on in one of the later betas of iOS 10. However, despite saying nothing at WWDC, it does appear that Apple is listening.
iOS 10 public beta will be available in July and released to the public this fall.