By @SimonCocking. Great interview with the fantastically talented Chris Clor, who was a key note speaker at the recent IPPA event in Dublin. You can see more of Chris's work here.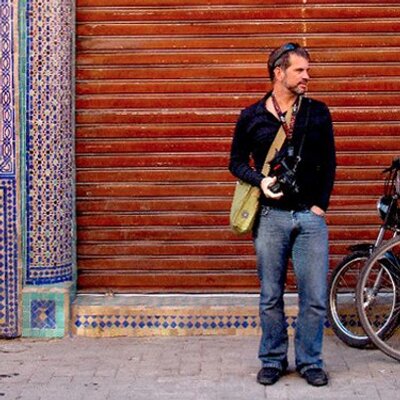 How would you describe what you do?
Overall I would say my work would fall into the conceptual genre. I do like a bit of humor thrown into the mix, although at times it may be a bit dark. Going back to the earliest days of my work the mindset has stayed pretty much the same. Of course the tools of image creation have drastically changed over the years and have provided a far more flexible solution to the workflow. That being said I do enjoy shooting landscapes and portraits in a fairly straight forward manner, relying on lighting, composition and expression to form the narrative verses the fantasy approach.
Looking back at some of your earlier jobs and interests does it seem like a logical progression to the projects you accept these days?
Absolutely. Although I do a fair amount of "straight up" photo projects most of my clients look to me to create the no holds barred style you see in my portfolio and leave the details of "how" to me. From time to time I will get an art director who wants to create something entirely in camera, massive set builds, in camera effects etc. until they realize their concept far exceeds their budget for that kind of approach. Fortunately I can swing either way but generally offer the most cost effective approach using the latest technology as the best solution.
Has photography changed much since you began? What would you see as the pros and cons?
In my early days, we are talking the 70's here, the personal computer and digital photography did not exist. Everything was shot on transparency film for commercial projects. All of your effects were done in camera. I shot with 8×10, 4×5 and 6×6 primarily. The sheer expense and skills necessary kept the masses out of the fray and a steady stream of assignments for commercial shooters.
Digital photography has democratized image making, which is a good thing, but for assignment shooters who's career has spanned the transition from film to digital, we have seen a dramatic decline in the sheer number of assignments. A lot of the "bread and butter" work has gone away and well funded projects seem to be fewer and farther between. One must work very hard now to secure projects. I spend far more time on marketing than I did in the early days of my career.
You have used Canon, and Hasselblad then to Sony A7R, (and A7R 2), you mentioned it being much lighter and happy with the quality -> what would your ideal camera be in the future (if you could help design it)?
I know people get really into the tech aspects of this camera or that camera, pixel peeping and all of that. I tend to use what is most comfortable for my style of work. At the moment the Sony really suits me. It does everything I have asked it to do and in a very small package that I love as I travel so much. Growing up in the film era I do miss the dimensional quality of images created on film, something that I feel is still missing in digital capture, along with the nuance of color film is able to record. A digital camera that could achieve this would get my vote.
You build up your pictures up in sequence, photographing everything individually, so that it can all be tweaked / layered. Is this still your preferred method of working?
Yes. Even back in the film days using in camera multi-exposure techniques it has always been my preferred method. Concentrating on individual elements allows great control over the final image. I does take some time to perfect the technique of working this way to avoid the cut and pasted look but with some images and concepts there is really no other way to execute it. I get asked frequently what photoshop techniques I use to do this but the question should be what techniques I used during the photo shoot. Matching the subject lighting and perspective to the background image is everything. Most people of even limited photoshop abilities can do the comp work effectively but if your subject lighting is off, or you used the wrong lens, camera height etc. It will always look wrong.
What are your favourite images you have taken? And any that got away?
I tend to do images in a series so I don't really have a favorite image so to speak but I do have a few favorite series of images I have created. A big factor is also the emotion and creative energy I get while shooting the series. Things like the connection between the actors and myself, the happy accidents, the overall vibe of the shoot factor into what constitutes a favorite for me. That being said here are a few of my favorites: The Jesus series, Emmy and the Whale book, the Storm Trooper series, Behind Closed Doors series and the book Smoke Without Fire come to mind. Some of the most fun I have ever had creating images. After all…it has to be fun!
It's great that you shoot to create images / textures / libraries, of individual pieces of things, waves, flames, so that you can later build it up, sea, sky etc. How big are your libraries now?
Over the years they have become pretty immense. I have 3 Drobos with around 12 TB each. One is used primarily for backing up my computer and current projects and the others to store assignments and image libraries.
Who you are inspired by? You mentioned painters, such as Edward Hopper, Andrew Wyeth, and anyone who does illustrative pictures?
I tend to study painters more than other photographers and of course Hopper and Wyeth are a few of my favorites. I always tell students if you want to know how to light something study
the work of painters.
You like people who uses multiple light sources, to create slightly surreal images. What are you hoping to capture?
I try to keep the lighting fairly cinematic. What I mean by that is cinema lighting evolved probably during the seventie's and eightie's where DP's started to let the room lighting dictate the light that fell onto the actors. Less beauty lighting for the actor but a far more natural look. I try to strike a balance there but most often let the environment dictate the lighting.
Reading Emmy and the Whale https://t.co/OxGV39BmAn pic.twitter.com/hmUhnxgDd2

— Chris Clor (@ChrisClor) March 26, 2016
What would you like to do in the future?
Actually the future is here for me. I am deeply involved in illustrating children's books using a combination of photography and CGI and doing less assignment work. The writer I work with, Julian Burrett, and I have started our own publishing company, Clor-Burrett Publishing. We have our first book, "Emmy and the Whale" printed and available now and 4 more children's books in various stages of production.
Anything we should have asked you / you'd like to add?
Staying passionate about your work is key to a long career in photography. Figure out what excites.
---
If you would like to have your company featured in the Irish Tech News Business Showcase, get in contact with us at [email protected] or on Twitter: @SimonCocking