Latest excellent podcast from the Robohub team. See more by them here.
In this episode, Audrow Nash interviews Emo Todorov, Director of Movement Control Laboratory at the University of Washington, about a physics-based optimization method for controlling robots. Todorov describes how his physics-based method can be used to solve problems and discusses results in simulation and on hardware.
Emo Todorov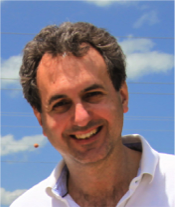 Emo Todorov obtained his PhD in Cognitive Neuroscience from MIT in 1998. Since then he has worked as Postdoctoral Felow in the Gatsby Computational Neuroscience Unit at UCL, Research Scientist in Biomedical Engineering at USC, Assistant Professor in Cognitive Science at UCSD, and is now Associate Professor in Applied Mathematics and Computer Science & Engineering at UW. He is generally interested in intelligent control of complex systems, in both engineering and biology. His current focus is autonomous robot control through high-performance numerical optimization. He is also the founder of Roboti LLC and developer of the MuJoCo physics simulator.