By @SimonCocking. Interview with Tom Tuke-Hastings Entrepreneur, author, speaker, consultant and tinkerer. Living in London, enjoying life and making things happen. Author of 'It's All About the Idea' available for purchase here.
We liked the book. Are you finding people are using it on a weekly basis or reading through it first and then working through the relevant parts for them?
Most people read it through first (it is a pretty quick read) and then go back and dig in to the bits most relevant to them. They might not go for all of them and I advise trying a few things over time rather than trying to change everything at once.
A book that is a light and a book to bring your ideas to life It's all about the idea by Tom Tuke Hastings @amazon pic.twitter.com/6kcdPRg0AT

— Claire Phoenix (@ClaireFoodBev) July 6, 2016
What is your background?
I have had an entrepreneurial career, which has always had a creative edge. I started out running a food dot com in the 90s and cooking, writing and consulting around food. I then went into marketing agency side to get more company experience. A couple of years later I helped turn around a manufacturing business through a mixture of management, sales, marketing and product design. Then I did a few food marketing projects before founding All about the Idea in 2008. On the way, I have had three cookery books published (this is my first business one) and have founded various companies from a shirt one to a top end men's luxury gifts brand. I enjoy traveling and new experiences from elephant polo in Nepal to looking for polar bears in the north pole. Aware that I am heavy on creativity and entrepreneurialism, I have balanced this by attending the prestigious Advanced Management Program at Harvard Business School.
You can see more on my linked in profile here:
Does it seem like a logical progression to what you are working on now?
The book is very much related to work. People always want to know how we create ideas and how to make their teams more creative, so we are building it into creative workshops to help brands get the most out of their people.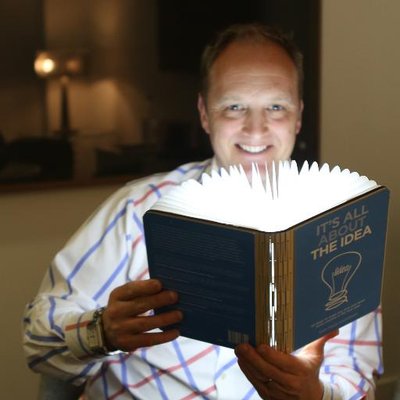 The book lamp is an interesting idea (pictured above), do you think that might become a product / business idea in itself?
I love the lamps, everyone smiles when they open it for the first time. I must admit that they are not my idea. We have taken them and made them ours with the stickers. As I say in the book, ideas are often composites and in this case, we took something great, made it ours and used it to make us look good.
What have been your successes that went well for you?
Most of my successes have come from asking and going for things even when people felt that there was no chance. From winning a scholarship to Harvard to getting to go to the Artic circle to look for polar bears, amazing things happen when you go for it. We have had plenty of work successes and we use big ideas every day to bring ideas to life for our clients. I love surprising people, so one of my favourites was lifting a 35m wide screen in an auditorium and inviting thousands of delegates through to a hidden room behind, full of exciting content. The small things are also fun and we have made some adorable delivery mechanisms for a mobile phone company. With a small budget and a need to stand out, we made the medium the message and packaged them in piñata dogs branded and wrapped up in brown paper and string. Our under dogs brought smiles and brand recognition to a fledgling brand.
What tips would you give to others looking to develop their ideas?
The hardest steps are the first and the last. You have to start and you have to finish/ ship something. The saddest story is that of 'I was going to do that and they have made a fortune'. If you want to bring an idea to life, you have to work at it. Make that first step, set yourself achievable objectives and keep on pushing. Likewise, at some point, you need to be happy that your idea is ready for the world and get it out there. I believe in more testing and less debating, get a minimum loveable product out there and see how people react to it.
What are you tips for classic mistakes to avoid?
There are lots of mistakes and sometimes you have to make them. If you are passionate about starting something in an industry that is new to you, get a job in that industry, even if only for a short time, so you can see the industry norms, make some contacts and get further ahead. You will make some of the same mistakes you would have made, but not at your personal cost.
To what degree can creativity be taught / inspired in others?
I think that everyone has the capacity to be creative and some people do need some help. Ironically, the more creative the business, the more creative you need to be to stand out. You need to be pretty special to make big waves on day one at Apple, but it is much more doable in a provincial accountancy firm.
How do we nurture creativity in a time of constant status updates and notifications?
On one side, it is great to be aware of new and exciting things that are out there as these can help with your ideas. But you need time to dream. I make time to think about ideas and turn off the noise. With constant online activity, comes the need for ever more content, so in many ways, I think it has driven creativity. There is an immense amount of excellent user generated content being created every day and this is driven by more people being more creative and sharing what they have made.
.@TomTukeHastings shows WATC readers how you can work, rest and play! How thinking… https://t.co/nqs914UiD3 pic.twitter.com/eMPVt42By0

— WeAreTheCity HQ (@WATC_Updates) July 21, 2016
Who are your sources of inspiration / which people do you follow / read / enjoy learning from?
I find inspiration in all sorts of things and at the very heart of this is a puppy like fascination of the world. I am always interested and always looking at what is new and different. I love sites like Kickstarter that launch people's dreams, I look for visual inspiration on Pinterest and Google images and enjoy the musings of various online gurus like Seth Godin. But with so much going in, I like reading to relax and refocus with P.G. Wodehouse's ageless world of Jeeves and Wooster and Blandings taking away the mental stress of the workaday world.
---
If you would like to have your company featured in the Irish Tech News Business Showcase, get in contact with us at [email protected] or on Twitter: @SimonCocking