This article originally appeared on 60 Second Social.
When Apple started calling time on flash years ago there was plenty of people scoffing at the thought of it. Back in 2010, Apple refused to incorporate flash into its iOS mobile operating system. In the early Android and iOS days, the lack of flash on iOS was something which was thrown in the face of iOS users from Android users plenty of times.
Five years ago, Steve Jobs penned a 1700 word explanation of why Apple refused to incorporate flash. Five years down the line and while Steve Jobs is no longer with us to underline the point, Adobe flash is done.
Alex Stamos, the recently appointed chief security officer at Facebook has called on Adobe to announce an "end of life date for Flash." Stamos took to Twitter over the weekend and echoed a number of complaints from the security community that the software is now simply too open to hacking vulnerabilities.
It is time for Adobe to announce the end-of-life date for Flash and to ask the browsers to set killbits on the same day.

— Alex Stamos (@alexstamos) July 12, 2015
Even if 18 months from now, one set date is the only way to disentangle the dependencies and upgrade the whole ecosystem at once.

— Alex Stamos (@alexstamos) July 12, 2015
Last week, a 400GB cache of files stolen from spyware company Hacking Team revealed a major vulnerability in flash that allows hackers to execute malicious code on a target machine via a website.
Adobe issued a patch to quickly fix the problem however two additional vulnerabilities for Flash were found in the same 400GB file cache in the following days.
Today a nail has been further driven into Adobe's Flash plugin as Firefox has blocked flash support. This means that users will not be able to turn on or use the Adobe Flash plugin on Firefox anymore and instead will have to seek out a different browser in order to play flash.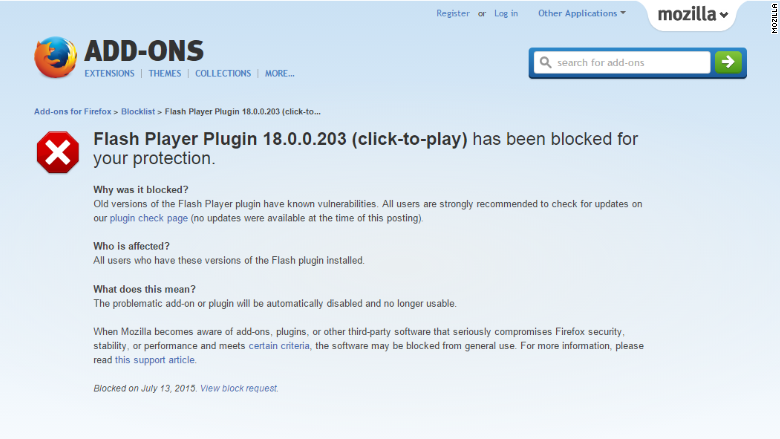 Just under 11% of websites actually still use flash according to technology survey company, W3Techs.
Personally, I would recommend disabling flash for good if you do not use Firefox. Mashable has posted a handy guide on how to turn off flash for each browser, you can check it out at the following link.
http://mashable.com/2015/07/13/how-to-disable-adobe-flash/
---
About The Author
Mark is the founder of 60 Second Social media where he provides social media news and digital marketing analysis. He has an Advanced Diploma in Psychology and a Diploma in Digital Marketing And Social Media. You can follow him on Twitter here. You can also follow 60 Second Social on Twitter here. Or you can drop Mark an email at, [email protected]