This article originally appeared on 60 Second Social.
The popularity of emojis is rising fast, in fact most places you look now across text messages to social media channels, emojis are being used more regularly that ever before. The World Wide Fund For Nature (WWF) wants to use a certain group of emoji to help fundraising efforts with a new campaign, #EndangeredEmoji.
Their new campaign highlights the fact that there is 17 emojis on the current Android and iOS keyboards which are currently endangered species. Among these 17 emojis is the popular monkey emoji which according to the WWF is a spider monkey as well as a giant panda, asian elephant and a tiger.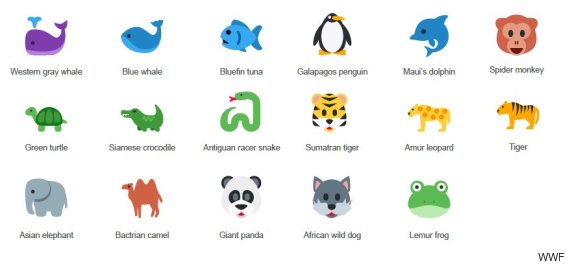 WWF started the campaign by tweeting the 17 emoji and inviting people to sign up and take part. To sign up simply retweet the original tweet and then for every endangered emoji you use after that, WWF will add €0.10 cents (about 11 cents in America) to a voluntary donation account. At the end of each month a tally of the endangered emojis that have been used will be sent to you and then you can choose whether you wish to donate the total amount of those emoji or an amount of your own choosing.
We're using #EndangeredEmoji to save real animals from extinction. Please retweet to sign up and help. pic.twitter.com/hX1p1GEDZ9

— WWF (@WWF) May 12, 2015
WWF has outlined how the campaign will work in the video below.
About The Author
Mark is the founder of 60 Second Social media where he provides social media news and digital marketing analysis. He has an Advanced Diploma in Psychology and a Diploma in Digital Marketing And Social Media. You can follow him on Twitter here. You can also follow 60 Second Social on Twitter here. Or you can drop Mark an email at, [email protected]