By @SimonCocking. Great FinTech insights from David Gyori CEO of Banking Reports. FinTech writer, speaker, researcher, consultant, trainer. Judge of European FinTech Awards. Co-author of 'The FinTech Book' by Wiley.
Your background briefly?
I have studied finance, economics and management in Budapest. I started to serve banks in the CEE region with market research in 2002. In a couple of years I gained enough insights to run consulting projects for financial services providers.
I started to turn my attention beyond the CEE region in late 2013. It quickly turned out that the big global issue, the center of attention, the big attraction, the trend, the buzz, the developing story is FinTech. I basically fell in love with FinTech. FinTech combines two areas which I consider my strengths: hard core old style solid expertise in financial services combined with creativity, innovation, openness, nimbleness and a diverse array of approaches.
If you have the chance, don't forget to check out our (@Banking_Reports) website at https://t.co/q3AynDRgv9 pic.twitter.com/fNf3zqgE3k

— David Gyori (@DavidGyori1) July 5, 2016
Tell us about Banking Reports?
Banking Reports provides top quality FinTech training for bankers. We read and write a lot about FinTech and through this filter a structured, clear, focused and global picture emerges. Our training programs are built on this picture.
You have a lot of projects you're involved in – how do you manage your commitments / and what does a typical day look like for you?
I am very good in focusing, but very poor in re-focusing. This defines my typical day: I try to focus on one project, one topic, one issue, one key milestone to reach each day. Some examples: Training a group of bankers – typically 20 people – from 9am to 5pm. Giving a keynote speech in an international conference and listening to other experts before and after my speech. Writing an article about the future of banking and going through it with an editor, getting it ready to be published. Networking through my LinkedIn connections of over 11 000 Fintech and banking experts, sharing key insights, discussing things. Planning my trips and communicating with key event and training organizers.
As a top FinTech influencer, which areas are you most excited by?
There are over 30 areas within FinTech which I pay close attention to. But let me list the seven areas I find especially outstandingly exciting:
Payments by Smartphones because solutions like ApplePay will surely eliminate plastic cards as we know them.
Biometric Identification because it is objectively at least as safe as any password, yet much more comfortable.
Digital Identity because when  sovereign states will widely accept digital ways of identification as full, legal identity, the much debated huge branch-networks of leading banks will clearly become heavy liabilities from an asset.
APIs because the model of Moven started up in New York and being on a global expansion trail will become surprisingly common in Europe as soon as the XS2A aspect of the PSD2 directive springs into force.
Roboadvisors because the combination of human intelligence with machine intelligence – the so called 'robo-and-advisor' model – is a stable 'modus vivendi' for the financial services system to go forward.
Social Trading because the revolutionary model set by eToro is just simply dominant over other forms of trading. The fact that people can copy each-other's trades and get asset management fee after their copiers is wonderful.
Social Media Credit Scoring because companies like Friendly Score are developing supplementary credit-scoring systems which soon will be inevitable and incumbent financial services providers – with the explicit permission of clients – will use Facebook, LinkedIn, Twitter, Instagram and even browser data derived to and combine with traditional scoring databases.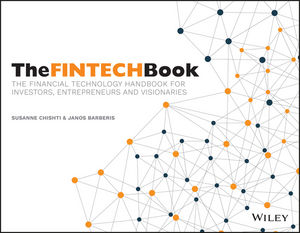 What response did you get to your FinTech book? What aspects did people like / find useful?
'The FINTECH Book' published by Wiley in April 2016 has quickly become a global category best-seller on Amazon. Reactions are amazingly positive, it has become an iconic book within FinTech. I want to point out something very important about this book: 90 percent of the work related to it goes to Susanne Chishti and Janos Barberis. They are the 'mother' and 'father' of this book. Me, and other co-authors have only done – I think – a tiny minority of the work. I am extremely thankful for Susanne and Janos and I am absolutely honored to be co-author of this book along with such giants as Chris Gledhill, Markus Gnirck, Sukhi Jutla, Spiros Margaris, Devie Mohan, Jorge Ruiz, Paolo Sironi, Andra Sonea, Paolo Tasca, Huy Nguyen Trieu, Fabian Vandenreydt or Gerben Visser.
This book started out as a crowdsourcing project with Susanne and Janos sending out tweets to people to hand in little abstracts to a minor, online compilation of some thoughts. Yet: it evolved into a global best seller by one of the best publishers available, with a high profile global book-launch event in the Shard. The very story of this book shows so clearly and tangibly how fundamentally and irreversibly the chain and process of value-creation have changed in our digital world. And this fundamental change is what the financial world is so heavily struggling with; THIS is what FinTech is about. And this rare and unique integrity between the story of creating the book and the stories told in the book is one of the aspects people really like and appreciate; they love how the story of this book so overwhelmingly justifies the very existence of it.
Seven different visions of the future of the UK on @financemagnates https://t.co/3ITgGHPeMf #Brexit #Fintech pic.twitter.com/Z1ZmrpxCML

— David Gyori (@DavidGyori1) July 1, 2016
Can traditional banks successfully innovate to deal with the rise of FinTech banking disrupters?
Yes, they can. This is a very controversial standpoint, but I find the existence of banks quite inevitable. They have been around for at least 4000 years and I think they have another couple of thousands of more years ahead of them. I think current banks will be divided into four clusters. Digital champions: these banks will master digital and grow and become more profitable in the new era. Digital adjusters: these banks will slowly and incrementally adjust to the new circumstances and maintain their profitability and market share. Digital losers: these banks will almost go out of business, but with major contraction of their balance sheet and their profitability, they will survive, yet become one magnitude smaller. Memories: these banks will be acquired by more dominant and capable players coming from 4 origins – FinTech companies, Tech giants, Mobile Network Operators and Digital champion banks.
If you could make everyone in Banking do what you told them, what would you command them to do?
To put innovation into the forefront of their formal written strategy – it is usually just a half sentence. To prepare a detailed innovation sub-strategy within the entire strategy and to deliver this innovation strategy ASAP. To train employees about innovation and digital and to hire into every position at least partially based on digital and innovation skills. To make innovation part of the formal work of EVERY employee, just like Toyota does.  To look for serious, impactful and really transformative international acquisition targets such as PayPal, eToro, Moven or TransferWise.
Will bitcoin achieve wider adoption or not? What are your thoughts on the viability of wider adoption of cryptocurencies?
BitCoin will step by step die out. Huge nominal price-volatility makes a means of payment inferior to other currencies, providing remarkable nominal price-volatility. But: in the next 10 years at least two absolutely new and more realistic, more mature digital currencies will emerge. Please remember: the 'PayPal mafia' (the initial founders of PayPal) wanted to introduce a digital currency back in 2002, but the "project" – maybe it was just a plan or an idea – was terminated by the eBay acquisition later that year.
I have given KEYNOTE speech at the WORLD FINTECH FORUM (@world_fintech). Was very successful global event! #fintech pic.twitter.com/sOldroRe6K

— David Gyori (@DavidGyori1) June 21, 2016
Which thought leaders do you like to read / follow?
Stanley Epstein, because he is the payments guru.
Susanne Chishti, because she is the great 'connector' and true 'deliverer'.
Chris Skinner, because he is the best in understanding and analyzing FinTech from an incumbent standpoint.
Jim Marous, because he is the thorough analyzer and amazing provider of specific examples.
Brett King, because he is the true KING of FinTech, a powerful, bold, global opinion leader and a person who has shown first class global excellence not just analyzing FinTech and thinking about it, but also DOING it through the amazing company Moven.
Paolo Sironi, because he combines the fine understanding of FinTech with in-depth excellence in the science of finance.
Julie Meyer, because she looks at the entrepreneurial aspects of FinTech with super-excellent understanding.
These people – besides their own professional excellence – have also proven how open and highly helpful they are towards helping others reach their potential.
How do you manage online/offline, work/life challenges?
As I mentioned earlier, my strength is sharp focus, but my weakness is lack of multitasking. Therefore I try to divide these things. The last eight years have been incredibly busy in terms of work and too little attention was allocated to balance. I want to do two more intense years and after that I want to concentrate on establishing a family. These things never work out along 'plans' so we will see. What I am sure about is that some very exciting years are ahead of me.
Give us two 'wild bets', major, market-moving things you think will shape the coming years!
The first one: Brexit will actually not happen. Both internally in the UK and externally in the rest of the EU the steps towards a complete and mutually fully accepted setup of departure and a full set of new contracts ahead will be so slow that meanwhile the EU will evolve into a multi-speed, multi-status creature. The UK will choose one of the 'slower' lanes in this newly reformed multi-speed EU and will formally quit its old EU status, but immediately join this new, less integrated lane.
The second one: In the next five years I think we are looking ahead of a very aggressive global rate-hike cycle. The Fed will go first and after some steps others such as BoE, ECB and even BoJ will have to follow suit to stop one-way global capital-flows towards higher rates. Getting back to the normal global nominal rate-environment will fundamentally change the position of banks versus FinTech companies. Banks will become relatively stronger – due to higher profitability coming from higher rates – while FinTech companies will become relatively weaker due to less liquidity and funding available amidst a higher risk-free-rate environment. Still FinTech will remain a defining major global trend, but the relative power will somewhat shift towards banks.
---
If you would like to have your company featured in the Irish Tech News Business Showcase, get in contact with us at [email protected] or on Twitter: @SimonCocking